Hands On Training in Minimal Access Surgery Surgeon & Gynecologist Practicing Laparoscopic Intracorporeal Suturing Knotting With Choreographic movements without Swording of Instruments Demonstration by Dr. J .S Chowhan.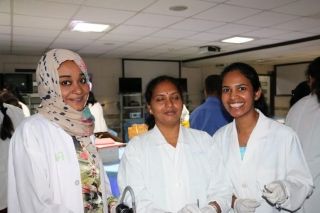 Hands on Training in Minimal Access surgery.
Event Date: Jun 9, 2017
Event Time: 9:00 am
Location: World Laparoscopy Hospital
Publisher; WLH
The doctors have already learnt the laparoscopic Extracorporeal and Intracorporeal suturing. Now they will be taught as how to further refine their knotting skills. The surgeon must be able to tie one laparoscopic Surgeon knot in less than two minutes and should be able to put four knots with a suture of 20 cms length. In Choreographic Suturing the doctor is explained that while knotting his instrument should not touch each other. This is analogous to two dancers never bodily touching each other on the floor.
Here both the instruments stay close to each other and also move together but never touch or sword with each other. The model consist of long sutures and a specially created bell is used which goes off when instruments touch each other. The configuration of surgeon knot is 2:1:1 i.e. two wraps on the first throw followed by two opposing alternate single wraps. This maneuver is facilitated by laying the suture in the shape of English alphabet C and reverse C. The concept of C and reverse C was demonstrated and understood by them for creating square knots.