Laparoscopic Hands on training in Minimal access surgery for Surgeon & Gynecologists Tin cup Drill, Cobra rob Drill and Terrible Drill Exercises.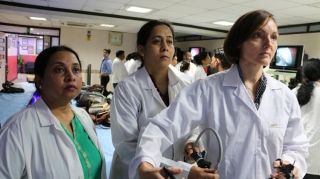 Hands on Training in Minimal access Surgery.
Event Date: Jun 3, 2017
Event Time: 9:00 am
Location: World Laparoscopy Hospital
Publisher; WLH
Today surgeons and gynaecologist learn hands-on training and Exercises to increases depth perception and eye hand co-ordination by doing cobra rope drill, Tin cup drill and terrible triangle drill practice of diagnostic laparoscopy and hand eye coordination for gynaecologists , surgeons and urologists for various minimum access surgeries in laparoscopy lab with all set laparoscopic instruments under supervision of the Dr.J.S.Chowhan.