Prof Dr. R. K. Mishra Demonstrate to surgeon Laparoscopic Nissen fundoplication, Nephrectomy, Splenectomy and Heller myotomy on the Live Tissue.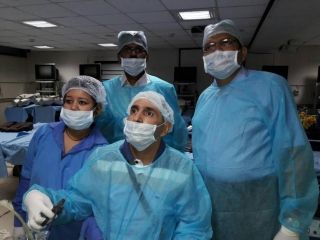 Hands on Training in Minimal Access surgery on the Live Tissue.
Event Date: May 19, 2017
Event Time: 9:10 am
Location: World Laparoscopy Hospital
Publisher; WLH
Laparoscopic Nissen fundoplication have many advantages over the traditional open surgery. It include reduced morbidity, less incision marks, better recovery, less hospital stay, less infection and complication.
Laparoscopic Nephrectomy provides patients with a safe and effective way to remove a diseased or cancerous kidney. Laparosopic nephrectomy is a minimally invasive technique, which provides patients with less discomfort and equivalent results when compared to the larger incision required with traditional open surgery.
When compared to conventional open surgery, laparoscopic nephrectomy has resulted in significantly less post-operative pain, a shorter hospital stay, earlier return to work and daily activities, a more favorable cosmetic result and outcomes identical to that of open surgery.