Dr. Chowhan Demonstrate to Surgeon & Gynaecologist How Lern the da vinci robotic surgeon's knot, Tumble Squre Knot and Dundee Jamming Knot Continuous Suturing and Aberdeen Termination.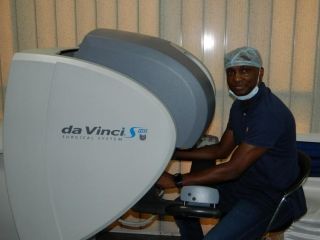 Hands on Training in Robotic surgery at world Laparoscopy Hospital
Event Date: May 26, 2017
Event Time: 9:15 am
Location: World Laparoscopy Hospital
Publisher; WLH
A simple tissue can be used for learning the basic skill in Da Vinci roibotic surgery. New Robotic surgeon neeeds to learning the basic skills like duturing and knotting, regardless of whether the machine is in a dedicated laboratory setting or if it is shared in a clinical setting. Few models are available for the dry lab and the cost of the instruments is still high. Furthermore it is very complex to assess the skills of the trainee in an objective way.