Hands on practice of Da Vinci Robotic Suturing Knoting, Surgeons knot Tumble Square knot and Dundee Jamming Knot Continuous Suturing and Aberdeen Termination, for Surgeon & Gynecologist Demonstration by prof. Dr. R. K. Mishra.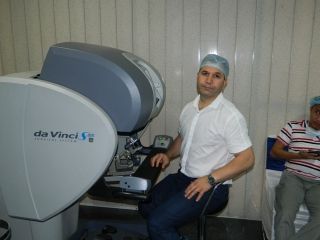 Robotic surgery training
Event Date: Jul 19, 2017
Event Time: 9:00 am
Location: World Laparoscopy Hospital
Publisher; WLH
Today the doctors were demonstrated on the da Vinci Robot, the Intracorporeal Surgeon knot, Tumble Square Knot and the Intracorporeal Dundee jamming continuous suturing with Aberdeen termination . The configuration of the surgeon knot is 2:1:1. Double wrap on the first throw and alternate single wrap in second and third throw. This is achieved by making C and Reverse C alternately. The surgeons very easily could learn and perform the various intracorporeal knotting and suturing.