Hands on Training in Minimal Access Surgery surgeons & Gynecologist Practicing Extracorporeal Square knot.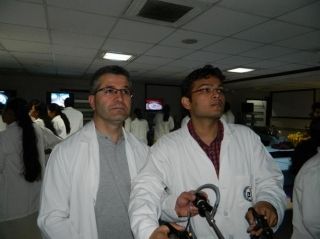 Hands on Training in Minimal access Surgery.
Event Date: Jul 7, 2017
Event Time: 9:00 am
Location: World Laparoscopy Hospital
Publisher; WLH
The surgeons and gynaecologist practise extracorpeal square knot. Where there is limited space and deep cavity like the pelvic cavity, gastroesophageal junction the approximation of the tissue is done by this extracorpeal square knot. This knot can be used to suture the vaginal vault or to approximate the right and left crus in Laparoscopic Fundoplication.. This knot can also be used to approximate the serosal layer in Laparoscopic myomectomy. The length of the suture should be minimum 90 cms and Clark's knot pusher is used. The needle is made Endoski and is introduced in the abdomen through 10 mm port. The bite is taken and 20 cms of the suture length is feeded inside.
The needle is pulled out. Half knot is tied and Clark's knot pusher is applied. The needle end of the suture is held tight and straight and the knot is pushed past the sutured tissue. This is called Past Pointing. Another half knot is tied and pushed. If the first knot is loose the second knot will tighten the first. Similarly third half knot is tied and pushed. After knotting the suture is cut. The Square knot is a must learn knot only disadvantage is that for every knot one suture length is consumed. Along with knotting doctors also learnt how to use the Needle holder and Align the needle in the needle holder.