Farewell to Old Batch and Welcome to New July Batch which is Going to Start from 1st of July 2014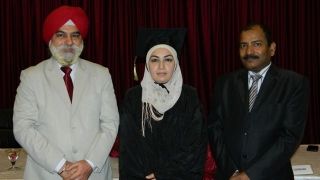 Event Date: Sun - 29 Jun, 2014
Event Time: 9:00 am
Location: World Laparoscopy Hospital
Institute: WLH
You shouldn't be dismayed at goodbyes, a farewell is necessary before you can meet again and meeting again, after moments or lifetimes, is certain if you are friends. Now at World Laparoscopy Hospital Laparoscopic and Robotic Surgery Training of June 2014 is Over. The surgeons and gynecologists are returning to their country and new fellows are coming to join the course from 1st of July 2014.




A farewell is necessary before we can meet again, and meeting again, after moments or a lifetime is certain for those who are friends.




The play is performed; the curtain drops, Slow falling to the prompter's bell. A minute the WLH stops and appears around to say farewell to our students.




Wishing all of you a bright future and all the success in life.