Laparoscopic Dundee Jamming Knot Continuous Suturing and Aberdeen Termination Demonstration by Dr R K Mishra.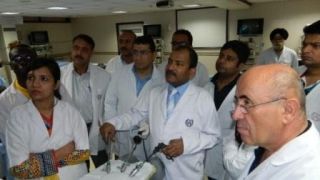 Event Date: Wed - 18 Jun, 2014
Event Time: 11:30 am
Location: World Laparoscopy Hospital
Institute: WLH
Doctors today learnt the Dundee Jamming continuous suturing with Aberdeen termination. The jamming knot is made outside and the needle and suture are introduced in the abdomen through the reducer. Bite is taken on the edges of the tissue and the needle is passed through the loop and tightened and jammed. Subsequent bites are taken by droping the needle inside the C Loop and on pulling the suture the stitch gets locked. In this manner the entire defect in the tissue is closed. The termination of the suture is done in the same way as in the process of making the jamming knot. This knot is also used for closure of the serosa in Laparoscopy myomectomy.