Baseball Diamond Principle of Laparoscopic Port Positioning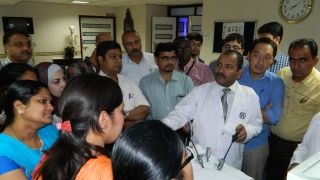 Event Date: Sat - 14 Jun, 2014
Event Time: 12:05 pm
Location: World Laparoscopy Hospital
Institute: WLH
The most crucial step in performing laparoscopic surgery comfortably is correct positioning of the working ports. Today Dr R K Mishra demonstrated the Base ball diamond principle of port position. This principle applies to the contralateral ports and it fulfills the three important requirements of the laparoscopic surgery viz. 1. The laparoscopic instrument should work like type 1 lever, 2. half of the length of the instrument should be outside and half should be inside, 3. the manipulation angle between the working instruments should be sixty degree and the azimuth angle should be 30 degrees on either side.

The doctors also learnt about the ipsilateral port position and learnt the aerial gradient,motion parallax and motion gradient and its effect on the task performance. The intracorporeal suturing becomes difficult with ipsilateral ports.




The doctors were also given demonstration on creating ports opposite the telescope and formation of the mirror image which should be avoided at every cost in the laparoscopic surgery.




Gas embolism is a problem when intravenous insufflation happens. The characteristic sudden drop in cardiac output and mill wheel murmur demand immediate cessation of pneumopritoneum, placing of patient in left lateral position and needle puncture in right side of heart. Other complications are prepritoneal, subcutaneous and scrotal emphysema and pneumomediastinum via retropritoneum. This highlights the significance of examining the correct placement of the Veress needle just before initiating insufflation.